Home
>
Carpet Cleaning Process
Carpet Cleaning Process
Noosa Prestige uses a carpet cleaning process that involves washing the carpet pile with clean hot water solution, using a gentle cleaning technique and assisted by the highest quality cleaning solutions available. All carpet must be vacuumed as the first step in the carpet cleaning process to remove dry soil.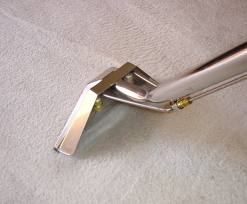 When performed by a skilled technician with well maintained equipment, carpet steam cleaning is by far the most effective way to clean carpet because it literally washes the pile clean leaving nothing but fresh fibers.

Pollutants, contaminants and old cleaning residues are extracted out of the carpet, together with the active cleaning solution, by very powerful suction to be collected in the holding tank of the Service Vehicle.  This vessel of dirty water, lint and other residues, together with the appearance of the cleaned carpet, clearly demonstrates the efficiency of this method.
Our standard carpet cleaning process involves a minimum 8 steps and which ensures we achieve consistent results on every job. Clean carpet should look and feel like it has been cleaned and the commercial equipment used in the carpet cleaning process helps to achieve this effect.
The powerful suction lifts the carpet pile and removes cleaning residues along with most of the moisture.  Using a proper carpet cleaning process with the correct chemical solutions, carpets will retain stain resistant properties longer, and look and feel fresh in appearance. Unfortunately carpets cleaned by budget priced cleaners rarely improve with each clean. If cleaned properly, your carpets should get better each time they are cleaned, not worse.
Our carpet cleaning process includes the application of a quality conditioner to reset the PH balance of the carpet and improve soil resitance.  This is applied at the time of steam cleaning and provides ideal pre conditioning for the application of carpet protection. Carpet protection provides a longer lasting clean appearance and protection against spills.  Ask us about carpet protection when you call.