Home
Your floor rug can be steam cleaned in your home using our Prestige Cleaning process that will leave it fresh and thoroughly clean like never before. Rug cleaning is generally done on site with good ventilation to assist drying.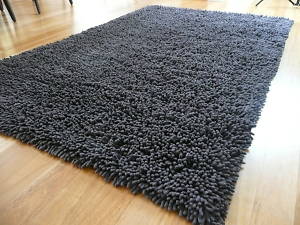 Excluding delicate woven Persian or Arabic, rugs, we specialise in cleaning everything else from designer rugs and mats up to large area tufted floor rugs made from wool or synthetic fibers.
Our rug cleaning process includes commercial vacuum to vibrate, brush and lift soils and dust from the pile, application of a safe cleaning solution, agitation of fibers to release deep soils, thorough washing of fibers and extraction with our powerful truck mount steam cleaning equipment, Continue reading »
Leather furniture deserves care and attention, it's a little more maintenance than fabric upholstery, but your reward is; the luxurious feel you only get from a clean softened leather lounge, provided by Noosa Prestige quality leather care.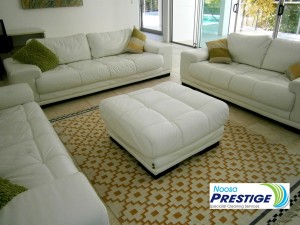 There are many different types of leather used for furniture upholstery and according to use, all leathers need quality leather care at some stage of the service life. Given the correct treatment, your leather furniture can outlast fabric covered furniture items most of the time.

To help you extend the life of your leather furniture, and keep leather upholstery looking like new we recommend conditioning the leather annually or less depending on use and conditions. As leather is a natural animal skin, it requires conditioning to prevent drying out and ensure it stays supple and soft while maintaining a clean appearance. Soils and contaminants will eventually ruin the surface over time if not removed. Continue reading »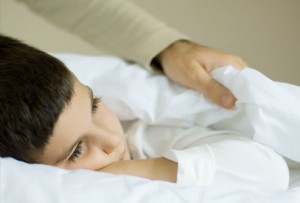 As a parent it can be tiresome getting up in the night to change sheets and attempt to scrub, treat, extract or dry a mattress that has been subject to a bed wetting mishap.

If this happens, the number one rule is "BE CALM AND CARING TOWARDS THE CHILD".  This is very important, because they probably weren't even aware they were doing it and the mishap only became aparant when they woke up and called out to the parent.  Your reaction is very important so that your child does not develop issues or "hang-ups" around going to bed or having a restful sleep.  So forget the stress  because mattresses can be cleaned without a problem.  Here are the SIX most important steps to Avoiding Bed Wetting Mishaps: Continue reading »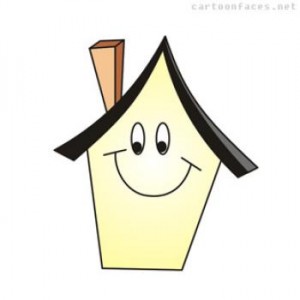 It's amazing how many people are still unaware how to get the best value from a cleaning service.
If you hire a cleaner and they don't do a proper job, your place is still dirty right?  Well it's the same with carpet cleaning. There is a "right" and "wrong" way to clean carpets and upholstery.  Getting "value for money" is what every one likes to achieve, but is it "False Economy" using a carpet cleaner just because they are cheap?
Here's the answer… Continue reading »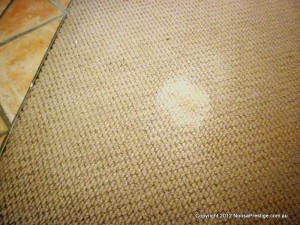 Carpet stain removal is more a science than anything, and there are numerous factors that will determine whether a spot on carpet, fabric or leather, is either removable or permanent.
The close-up photo below (top) shows vomit on carpet that was treated by the customer prior to Noosa Prestige arriving. The bottom photo is the same carpet section that was cleaned by Noosa Prestige Specialist Cleaning Services. Our expertise in cleaning carpet, tiles and upholstery to the highest standard, also extends to stain removal and we offer free phone advice for any stains you might be having trouble with.
Thank You! Finally someone that knows their stuff. This is my third attempt at finding someone that can deliver the goods, my carpet was very dirty in places. NPCS got my carpets back to how they should be. Forget the cheap guys you're just wasting your money, spend a little extra and get the job done right. Thanks for a great job,will definately use you again. PS; thanks for doing my car too!
Ash, Sunrise Beach, March 2012
********
"House With no Steps wish to thank Noosa Prestige for an outstanding job in our Day Service rooms at Doonan.  We were thoroughly impressed with the results our carpet and chairs cleaned up way better than expected – like new again!  We were also impressed by the efficiency in getting the job done right from booking the service through to Continue reading »
Noosa Prestige uses a carpet cleaning process that involves washing the carpet pile with clean hot water solution, using a gentle cleaning technique and assisted by the highest quality cleaning solutions available. All carpet must be vacuumed as the first step in the carpet cleaning process to remove dry soil.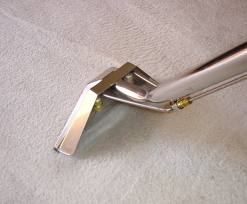 When performed by a skilled technician with well maintained equipment, carpet steam cleaning is by far the most effective way to clean carpet because it literally washes the pile clean leaving nothing but fresh fibers.

Pollutants, contaminants and old cleaning residues are extracted out of the carpet, together with the active cleaning solution, by very powerful suction to be collected in the holding tank of the Service Vehicle.  This vessel of dirty water, lint and other residues, together with the appearance of the cleaned carpet, clearly demonstrates the efficiency of this method.
Our standard carpet cleaning process involves a minimum 8 steps and which ensures we achieve consistent results on every job. Clean carpet should look and feel like it has been cleaned and the commercial equipment used in the carpet cleaning process helps to achieve this effect.