Home
>
Quality Leather Care
Quality Leather Care
Leather furniture deserves care and attention, it's a little more maintenance than fabric upholstery, but your reward is; the luxurious feel you only get from a clean softened leather lounge, provided by Noosa Prestige quality leather care.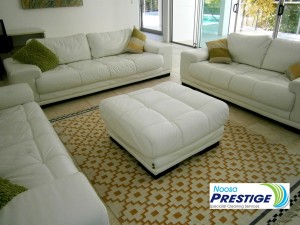 There are many different types of leather used for furniture upholstery and according to use, all leathers need quality leather care at some stage of the service life. Given the correct treatment, your leather furniture can outlast fabric covered furniture items most of the time.

To help you extend the life of your leather furniture, and keep leather upholstery looking like new we recommend conditioning the leather annually or less depending on use and conditions. As leather is a natural animal skin, it requires conditioning to prevent drying out and ensure it stays supple and soft while maintaining a clean appearance. Soils and contaminants will eventually ruin the surface over time if not removed.
In delivery quality leather care, Noosa Prestige cleans and conditions the leather to give it back much of the life lost to drying and aging. Included in the quality leather care process , the leather is also protected to prevent dust and soil sticking to the surface of the cleaned leather item. Protection is essential because the leather is exposed after cleaning and should not be used without ensuring the protective treatment is applied to seal the surface. It's really quite logical to recognize that, like wood or metal, leather also needs to be sealed after cleaning to reduce or prevent oxidization, contamination and discoloration.
Above: Our Cleaning Process making a difference to leather furniture


The picture below shows the cleaning process and its effect on the appearance of the lounge after just half of the lounge has received the Noosa Prestige quality leather care treatment.
In this case a red leather lounge with in grained soil was successfully restored to almost "as new" condition. The photo shows the contrast between the left side which has been cleaned and the right side which is how the leather lounge looked on arrival to the customer's home.
For more information on upholstery cleaning CLICK HERE.
More leather cleaning results are shown below.
This large 3 piece leather lounge suite by"Nick Scalli" was restored to better than brand new! How can this be? Wel, the customer advised they purchased the lounge "off the showroom floor" hence it was never as clean or as bright until it was cleaned, conditioned and protected by Noosa Prestige Cleaning Services.
Before
After