Home
>
Services
>
Car Boat Cleaning
Car Boat Cleaning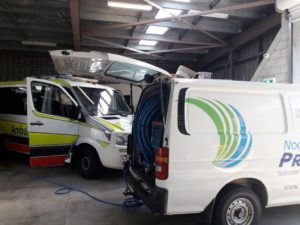 Upholstery and interior services for car, boat cleaning, motor homes and caravans!
Refresh and renew your upholstery and carpets with our Car Boat Cleaning services, including four wheel drive vehicles and motor homes. Our commercial cleaning equipment is ideal for getting the best results from fabric upholstery in cars, boats,
caravans and motor homes where spills and ground in soils are common. Our powerful equipment produces adjustable h9t water when cleaning, so soils, marks, spots and contamination are effectively removed from carpet in marine and automobile interiors without fuss.
Noosa Prestige has been engaged by other local services including Police and Ambulance as a preferred supplier of specialist cleaning services. We will clean interiors for multiple vehicle fleets on a regular or one off basis.

Our quality Automotive and Marine cleaning services will leave your car, boat or motor home fresh
and spotlessly clean. We clean leather upholstery, marine carpets, fabric furnishing and other non standard interior surfaces th
at over time can accumulate odours and soiling that detract from appearance, comfort and value.
We apply the same degree of care and attention as we would to a luxury home. After all automotive and marine interiors get a lot of use.
We clean interiors for all types of cars, boats, motor homes, as well as upholstery in caravans, trucks and 4WD's.