Home
>
Services
>
Carpet and Fabric Protection
Carpet and Fabric Protection

Fabric Protection with a Minimum 2 Year Warranty against Staining
Ideal for carpets and fabric upholstery items that have lost their natural resistance (coating) to spills and stains and have a tendancy to absorb moisture due to a lack of "surface tension" in the fibres. This includes most items after two years of regular use, exposure to sunlight, chemical cleaning or adverse activity.
Noosa Prestige Fabric Shield treatment is so good we offer a minimum 2 year warranty against staining (conditions apply) The process is applied safely and without mess to your fabric lounges, chairs, carpets and rugs and delivers lasting commercial grade protection. The long term benefits certainly outweight the cost of this premium product since it is working to protect your valuable furniture items 24/7, 365 days a year.

Benefits of Professionally applied Carpet Protectant
1.         Carpet or Fabric Looks Better and Stays Clean Longer.

If spills and soils can't penetrate. Most liquids bead on the surface allowing the spill to be wiped up before it penetrates into the carpet. Your carpets will therefore stay cleaner longer by repelling most soil and liquid contaminants. This in turn means carpets hold their clean appearance longer also.

2.         Carpet or Fabric Upholstery Cleans Better

The applied protection will hold liquid and dry soils at bay. The soils wait patiently to be cleaned up. Daily vacuuming is more effective as a result. Spot cleaning is easier and more effective also. Your technician will be able to tell when they are working on a carpet that has been previously treated with Protector.

3.         Prevents Permanent Stains

Permanent stains such as wine, red cordial, coke, paddle pop and many more can be prevented from damaging carpet and fabric. When stains become permanent, an entire room or sometimes house full of carpet can be ruined. Quality carpet protectors are a cheap form of insurance.

4.         Carpet and Fabrics Last Longer

It is well-documented fact that soil can cause premature wear to carpets through abrasion. Without protection heavy traffic areas can become damaged to the point they can't be effectively cleaned so often the carpet is discarded before it is completely worn out. This is a costly and unnecessary situation that can be changed using a quality carpet protector along with proper maintenance of the carpet to stop this premature loss of value.

The key to a successful coating lies in the creation of two most important properties, surface tension and coating action.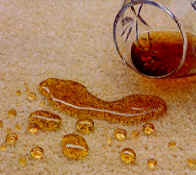 Surface Tension – The unique chemical structure of our Protectors creates increased surface tension at the surface of the fibre. Any liquid that spills will have a difficult time penetrating the surface of the fibre. Most spills simply bead up on the carpet or fabric, staying in the surface. If spills can't penetrate the surface it can't cause a stain and it is easy to clean up.
.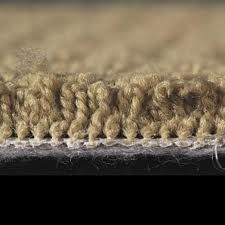 Coating Action – We use only the best quality Protectors since they have unparalleled penetrating action, allowing the entire fibre to be coated. This coating action is the second level of defence against spills and soils. Sometimes when a spill happens from high above the carpet or is forced past the surface by pressure such as walking on it, the liquid can overcome the surface tension and move towards the base of the carpet. The carpet is still protected however. The coat of Protector won't allow the spill to penetrate into the fibre itself. Clean up is still a snap.
Click on the video below to view a compilation of items that we provide protection for.