Home
>
Services
>
Rug Cleaning
Rug Cleaning

Professional Rug Cleaning can make a big difference to most types of rugs.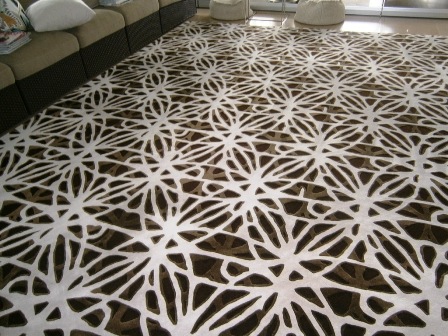 Whether they are covering hard working high traffic areas or decorator designs that add style to a particular room, we will clean most rugs onsite in an area away from other items and taking care to ensure we leave your rug(s) smelling fresh and looking vibrant once again. All rugs are vacuumed and sanitised before steam cleaning and removal of spots is included.
Our stain removal process for difficult spills on rugs is backed by technical expertise and not guess work. We treat everyday spills like red wine, pet urine, tomato sauce and coffee/tea with the same level of care you would expect from a professional cleaning service.
Rates
Rug cleaning with Noosa Prestige is quoted on the total square metres cleaned. For economic reasons we recommend having smaller rug(s) cleaned at the same time your lounge, carpet or tiles are being cleaned, otherwise we charge a minimum call out fee which covers the first half hour.
Our Expertise
Here's an example; Two week old red wine stains are difficult to remove from any fibre, so imagine the difficulty removing such a spill from a luxurious shag pile wool floor rug.  Needless to say, the customer was very happy to receive their woven wool rug back looking revitalized, smelling like new, and without the stain.
How did we remove a bad red wine spill from this luxurious woven WHITE wool SHAG rug?  See the "after cleaning" pics below.
Persian rug cleaning and conditioning by Noosa Prestige Cleaning Services
Generally we clean rugs onsite at the customer's premises. If done properly, this is a very thorough and effective process without submerging the rug in a purpose built rug bath. Hand made Persian, Arabic, Asian rugs and Kilins are most often non-colourfast. This means their colours will bleed when contacted with moisture and special care needs to be taken if there is any attempt to clean them. Most decorator type rugs will not have colour run issues and cleaning can be a little more aggressive. These rugs are usually very serviceable if synthetic, less so for natural fibres like wool, silk or cotton.