Home
>
Services
>
Water Damage Services
Water Damage Services

Noosa Prestige water damage services will respond quickly, assess and record essential details, apply services, and restore back to normal without delay.
Our water damage service aims to ensure your home or premises is restored to pre-loss condition as fast as possible and without unnecessary delay. We understand the inconvenience to people, businesses, families and even pets when flooding occurs at a property.

If your property suffers water damage at anytime you can contact our 24 hour hotline on 5474 5551.  We have technicians on 1 hour stand by 24 hours a day/7 days a week.


Our role when called to the site, is to prevent further damage and minimise disruption by assessing the situation and degree of flooding. Identification of any subsequent water damage and eliminating safety hazards is also paramount during the initial assessment. Once we find the source of the problem, effective solutions can then be discussed with the client, where we formulate the most effective strategy for restoration of the areas and items affected by the flooding. In all cases, we will obtain the client's authority to proceed and implement a drying solution as quickly as possible.
Although there is often uncertainty as to the extent of water damage, Noosa Prestige uses a proprietary format for insurance claims to be made should the Client require. All after hours call outs attract a fee. This is regardless of whether we undertake any work and we will only attend where agreement has been made for payment upon arrival at the premises.
If your situation is not considered an "emergency" and you prefer to wait until business hours, then you should at least find the source of the problem and restrict any further damage until our experienced technician arrives. We are available from 8am – 5pm Monday to Friday.

Once we have been authorised to supply our specialist water damage services, Noosa Prestige will go into action working to minimise disruption to the home or business and its occupants, provide progress updates, and work diligently to ensure everything is back to normal as soon as possible. We also provide a report of work carried out where needed.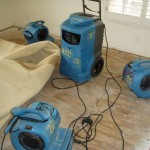 Water Damage and Drying Process:
Noosa Prestige uses commercial carpet drying equipment where needed to speed the drying process and specialist chemical treatment to effectively prevent the growth of mold, bacteria and related odours. Our water damage services are carried out with the following commercial equipment:
Powerful truck mounted extraction machines that ensure efficient removal of water from surface and subsurface areas.
High volume air movers and dehumidifiers to dramatically speed up dry times and minimise disruption to the workplace
Specialist restoration chemicals that neutralise odours, prevent growth of mold and mildew
Safety signage and anti-slip mats to minimise the potential for accidents
Specialised water damage monitoring and testing equipment to measure service outcomes

Mold & Mildew
Do you notice your allergic reactions are worse when you're at home but you feel better when you go out? If so then it's especially likely you could have mold. If you find that your allergies are worse in some other building, like your workplace, then there could be mold growing there instead.
If you don't take care of mold it will soon become a bigger problem. Visible mold growth could also be a sign that there is a much larger mold colony growing hidden away from view.
When it comes to removing and re-mediating mold, it's always best to hire a professional mold removal and remediation service. However, if the mold in your home is not toxic and the area of mold growth is small, use a mold killing solution to clean surfaces that had mold growth and even surfaces which were free of mold, because all of the surfaces in the room will have some degree of mold spore growth on them.
Click here to read more about mould and how it is treated.
Emergency Water Damage Tips:
DO – ensure you and your family are safe and away from electricity risks.

DO – turn off electricity to premises until any electrical hazards have been eliminated

DO – identify the source of the flooding where possible AND/OR turn off water at main

DO – remove all items that are in contact with water that need to be saved

DO – remove saturated rugs from floors to prevent staining & further damage

DO – CONTACT US FOR ADVICE AND TO ATTEND TO DAMAGE

DO – use a mop or squeegee to remove excess water if possible

DO – open windows to ventilate the entire area affected

DO – cut out and place pieces of plastic under furniture items to prevent staining carpet

DO NOT – operate electrical appliances while standing on wet floors, including carpet

DO NOT – use any chemicals on flooded floor coverings & furnishings


DO NOT – remove the carpet before the our technician has inspected it for restoring


DO – list all water damaged items and take photos for insurance purposes